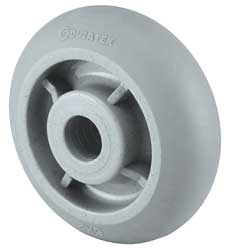 The hi-tech rubber wheel is a non-marking thermoplastic compound mechanically bonded to a polyolefin core.
Tests reveal no corrosion in harsh environments, and show extreme resistance to water and steam, grease, oil, and solvents.
This wheel is recommended for hospitals, hotels, clinics, or in an environment where quiet, non-marking wheels are preferred.
Temp range: -40°F to +180°F